A beach resort where you can experience
unspoiled nature
This is Nago in northern Okinawa with its beautiful natural mountains and ocean.
Our hotel is a resort perfectly located overlooking Nago Bay.
From the lobby overlooking the beautiful sea, to our guestrooms with their chic and relaxed atmosphere,
and our restaurant with its uniquely Okinawan fare, we offer you the warmest welcome.
Relax in the unassuming comfort of our friendly hotel.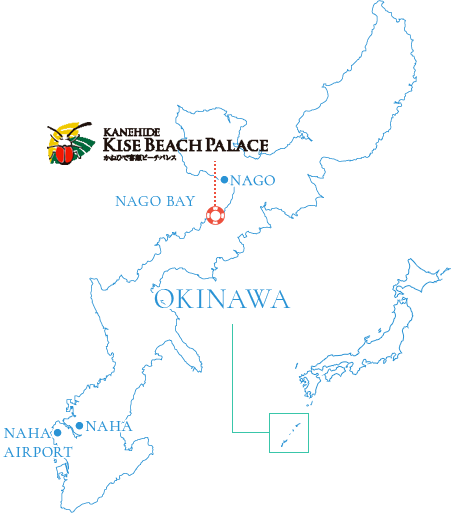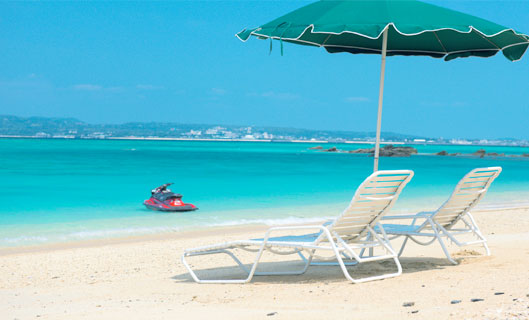 Kise Beach
Kise Beach on Nago Bay facing the hotel is famous as an untouched ultramarine beach, with a gentle natural atmosphere.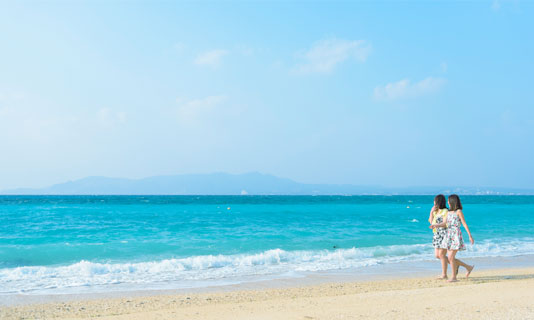 Guest Room
The sound of the waves
creates a restorative space
Information
CHECK IN / OUT

Check-in
15:00

Check out
11:00
AMENITY
Shampoo
Toothbrush
Razor
Rinse
Cotton swab
Cotton
Body soap
Hairbrush
Bar soap
Hair bands
Deluxe Twin/
Premium Twin special amenities
Flip-flops
Resort wear
(Beach swimming limited time only)
ROOM EQUIPMENT
Bath towel
Glass
Hairdryer
Face towel
Mug
Electric kettle
Hangers
40-inch TV (Premier Twin 50-inch)
Bath mat
Slippers
Safe
Gown
Refrigerator
Special amenities in each room
Deluxe Twin/Premium Twin
RENTAL
Bed guard
Air purifier
Wheelchair
Baby bed
Humidifier
Iron
Baby stroller
Restaurant
Enjoy the delicious cuisine
of Okinawa
Notice of the restaurant opening hours changed for precaution Coronavirus
Due to precaution Coronavirus to prevent the infection from spreading, we decided to change the restaurant opening hours as mentioned above. We hope you will understand.







Restaurant
Nagoura
Enjoy Okinawa's unique cuisine in our bright, clean restaurant
Relax and enjoy a variety of dishes using local fresh ingredients in our bright, airy restaurant overlooking the sea from the top floor. The restaurant is also open to non-staying guests.
Service hours
Breakfast / 6:30 to 9:00
Dinner / closed
Location
10th floor
Seating
114 people
Private room
1 room (Up to eight people)






Beachside izakaya
Chimbora
Beachside izakaya Chimbora
"Chimbora" is Okinawa dialect for "little shell". Enjoy fresh seafood netted the same day in nearby Nago Bay, cooked with the unique seasonal ingredients of Okinawa.
Service hours
17:00 to 22:30 *Smoking and non-smoking areas
(Last order: Food 21:30, drinks 22:00)
Prices
Appetizer ¥385 per person (under 13 years).
No service fee is charged. All prices include tax.
Marine Sports
Spend happy times enveloped in the emerald green sea.
Beach
period for swimming

Beach : 1st April, 2022 - 31th October, 2022
A variety of fun activities are available at Kise Beach
Berry on the first floor of the hotel offers a fun menu of marine sports that adults and children can enjoy. Have a memorable time in the emerald green sea.
Service hours 

9:00 to 18:00
Last booking

16:30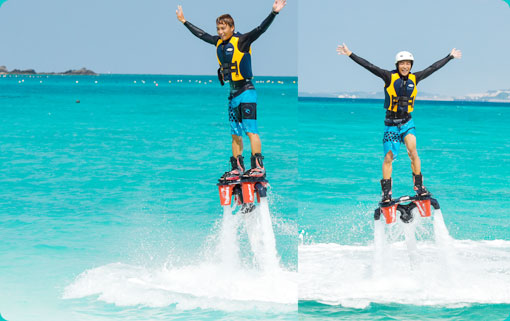 This marine sport was developed in France. Berry is now offering the popular Flyboard!
This novel attraction where you fly through the air with water pressure is sure to become a habit. It's totally exhilarating!
Enjoy excellent views as you walk through the air!


Facilities
We have a variety of facilities in the hotel to make your stay more comfortable.
Lobby

Kise Beach is just five seconds from the spacious atrium lobby of the hotel. It's a bright, open space overlooking the beach where you can relax.

Souvenir shop

The shop has a wide variety of goods including Okinawan sweets, traditional arts and crafts, health foods, and resort wear. You're sure to find something that reminds you vividly of your holiday whenever you see it. Nationwide parcel delivery is available.

Service hours

7:00 to 22:00
Coin laundry

B1F

Convenient for washing your swimwear and clothes. Being able to wash your clothes means you can pack less.

Times

24hours

Prices

Fully automatic washing machine /

¥300


Drying machine /

¥100 yen

for 30 minutes
Sightseeing

Enjoy the many attractive sights of Okinawa
Near the hotel there are many appealing spots typical of Okinawa.
Make the most of your stay and see all the sights!
01

Okinawa Churaumi
Aquarium

Churaumi means "clear sea" in Okinawan dialect. The whale sharks swimming in the large tanks and the outdoor dolphin shows are popular, making this one of the best known tourist destinations of Okinawa.

02

Busena Underwater
Observation Tower

The underwater observation tower 170 m to the west of the tip of Cape Busena is joined to the land by a walkway. A spiral staircase inside the tower takes you down to a depth of 5 m where you can watch tropical fish from the round windows.

03

Bankoku Shinryokan

A resort convention facility and the main venue for the Kyushu-Okinawa G8 Summit held in 2000. Bankoku Shinryo means "bridge to the world".

04

Mori no Glass Kan

Mysteriously shimmering Ryukyu glass attracts the mind of the beholder with its unique shape and color. This relaxed and quiet showroom offers various simple glass of gentle beauty for sale.

05

Pineapple Park

There's a corner for tasting wine and juice. Souvenirs from all over Okinawa, and pineapples from Ishigaki Island and the main island are on sale. The cute Pineapple Cart takes you on a ride to explore the park, where you can enjoy a lazy time among the palms and pineapple fields.

06

Kanehide
Kise Country Club

Yanbaru's forest is a dark green that makes everything look as though it's standing still. Kanehide Kise Country Club in the forest is celebrating its tenth anniversary. The popular course with its 'woods' and 'oceans' that stimulate the spirit to challenge vast continents calls for high-level strategy and determination.
Access
A resort space facing Kise Beach
on Nago Bay in northern Okinawa
The hotel is conveniently located close to Highway 58, Okinawa's main road. Coming by car or by shuttle bus from Naha Airport is convenient.
Kanehide Kise Beach Palace
115-2 Kise, Nago, Okinawa 905-0026
Tel.+81-980-52-5151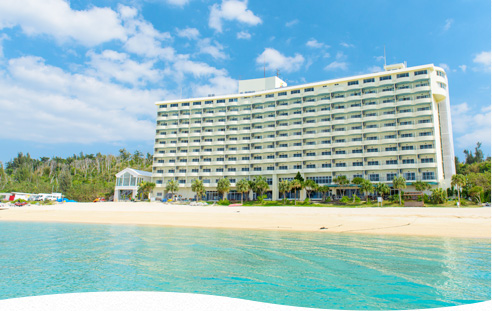 By Bus

Naha Bus Terminal Nago Nishi Airport Line: Numbers 20 and 120
Naha Bus Terminal
Bus / About 2 hours
Nago Kise bus stop
About 2 minutes on foot
Kanehide Kise Beach Palace
Naha Airport Bus stop 3 Nago Nishi Airport Line: Number 120
Naha Airport Bus stop 3
Bus / About 2 hours
Nago Kise bus stop
About 2 minutes on foot
Kanehide Kise Beach Palace
LIMOUSINE BUS
Using the daily shuttle bus from Naha Airport is convenient.

Naha Airport
Naha Bus Terminal
Airport Limousine Bus / About 2 hours
Kanehide Kise Beach Palace
It is not a shuttle bus operated by the hotel.
For enquiries, please contact "Enquiries about the Airport Limousine Bus" below.
Limousine Bus timetable
Enquiries about the Airport Limousine Bus
Airport Limousine Bus
FAX.+81-98-869-3302
*Please buy the bus ticket 30 minute before the bus departure.
*If the bus fully booked, you cannot book the bus. Please reserve next bus.
*Please allow more than 30 minutes for connections with arriving flights, and more than 60 minutes for connections with departing flights.
*No refund is possible if you are unable to use the service.
*All seats are non-smoking.
*Errors in the schedule may occur. Thank you for your understanding.